Jmin cho
Design Manager | UXUI Designer | Digital Designer
Wiz3D navigation
Wiz3D is a visualisation tool that is designed for the homeowner to create their future home with or without any 3D knowledge.
Define
Problems identified
Learnings
Ideate
Research and exploration
Validate
User testing
User feedback
Outcome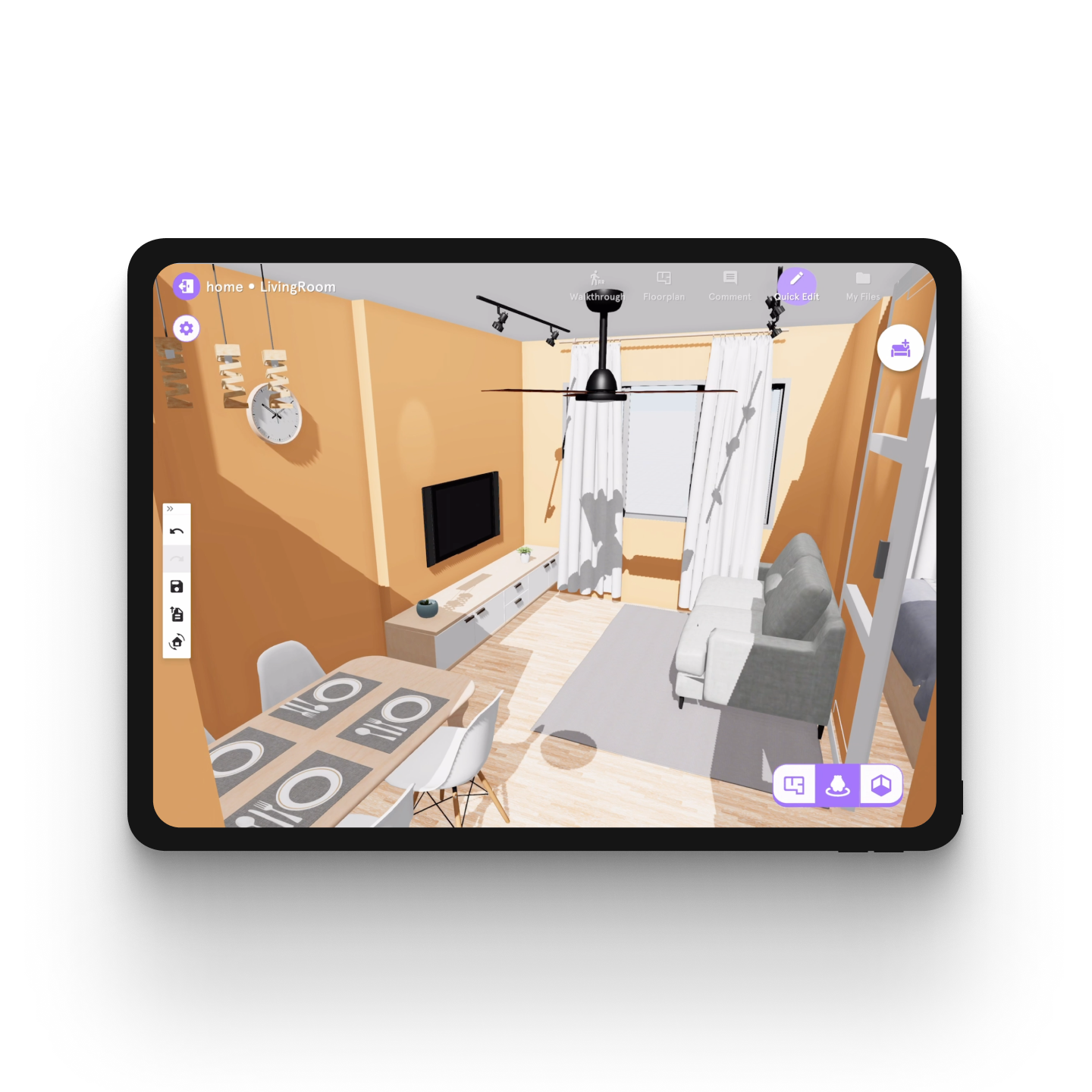 Problems identified
13 out of 15 users were confused and lost when asked to edit the existing project and update the walkthrough. They also have difficulties finding the tools that they want.
Even though they have successfully created their first project with the help of tooltips and tutorials, they were still unable to go through the same steps for existing projects.

They seem to be tapping around but couldn't reproduce the same steps and they gave up halfway through the testing.
They are not aware that they will need to tap on a particular icon in order to convert a walkthrough.
What we have learned from our users
Overall IA structure does not resonate with users' mental model and thus they were confused and lost even after going through the tooltips.

There are too many focal points in the interface and thus users took quite a while to find the tools that they want.
We came out with 3 different layouts with a different user entry point to test out with 15 homeowners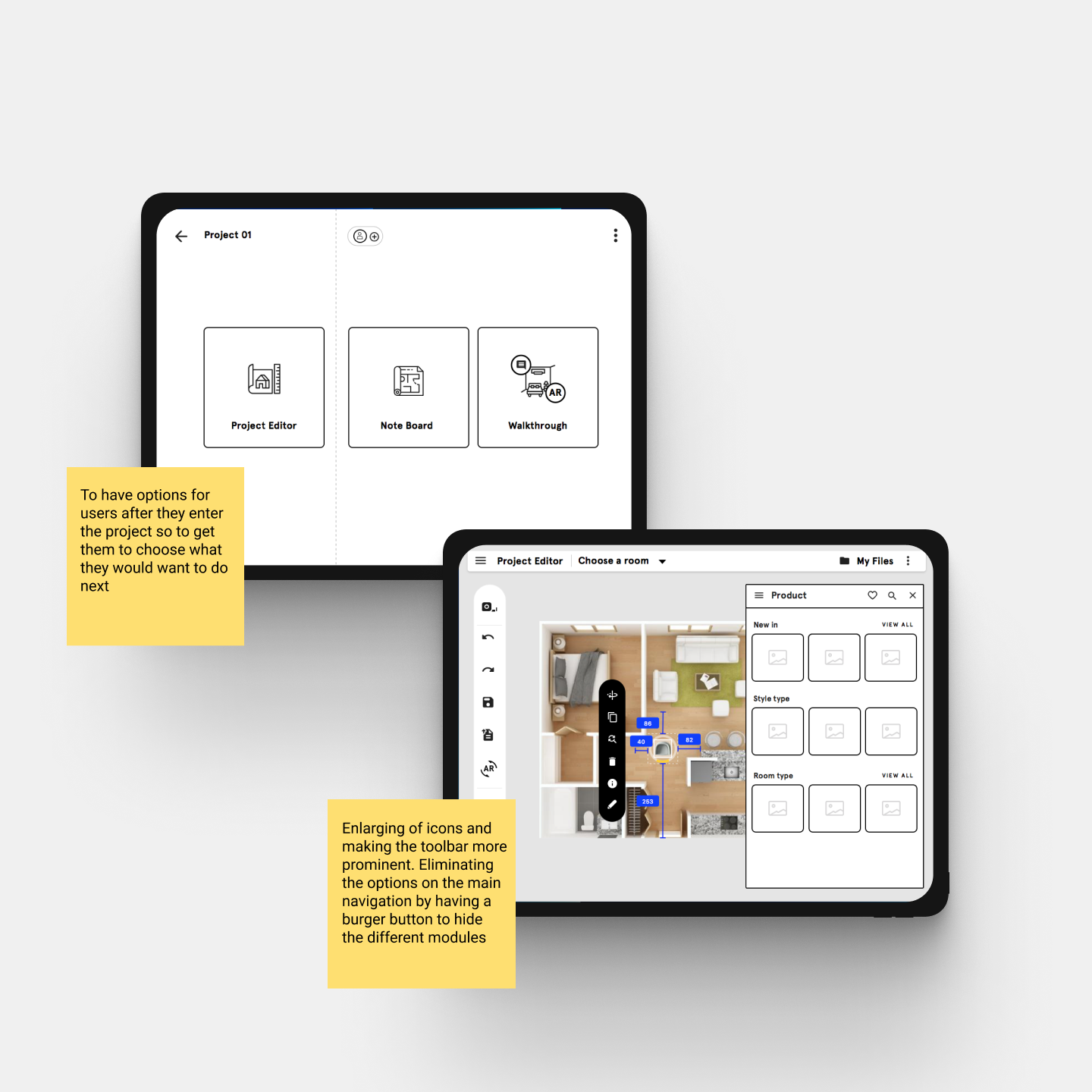 Exploration 01
To have all the sub-features laid out for them right after users enter the project - Project editor, Note Board, Walkthrough, or invite member.
With this, they are able to choose the feature that they want at the start and stay within that tool. They may change to other features by tapping on the burger button.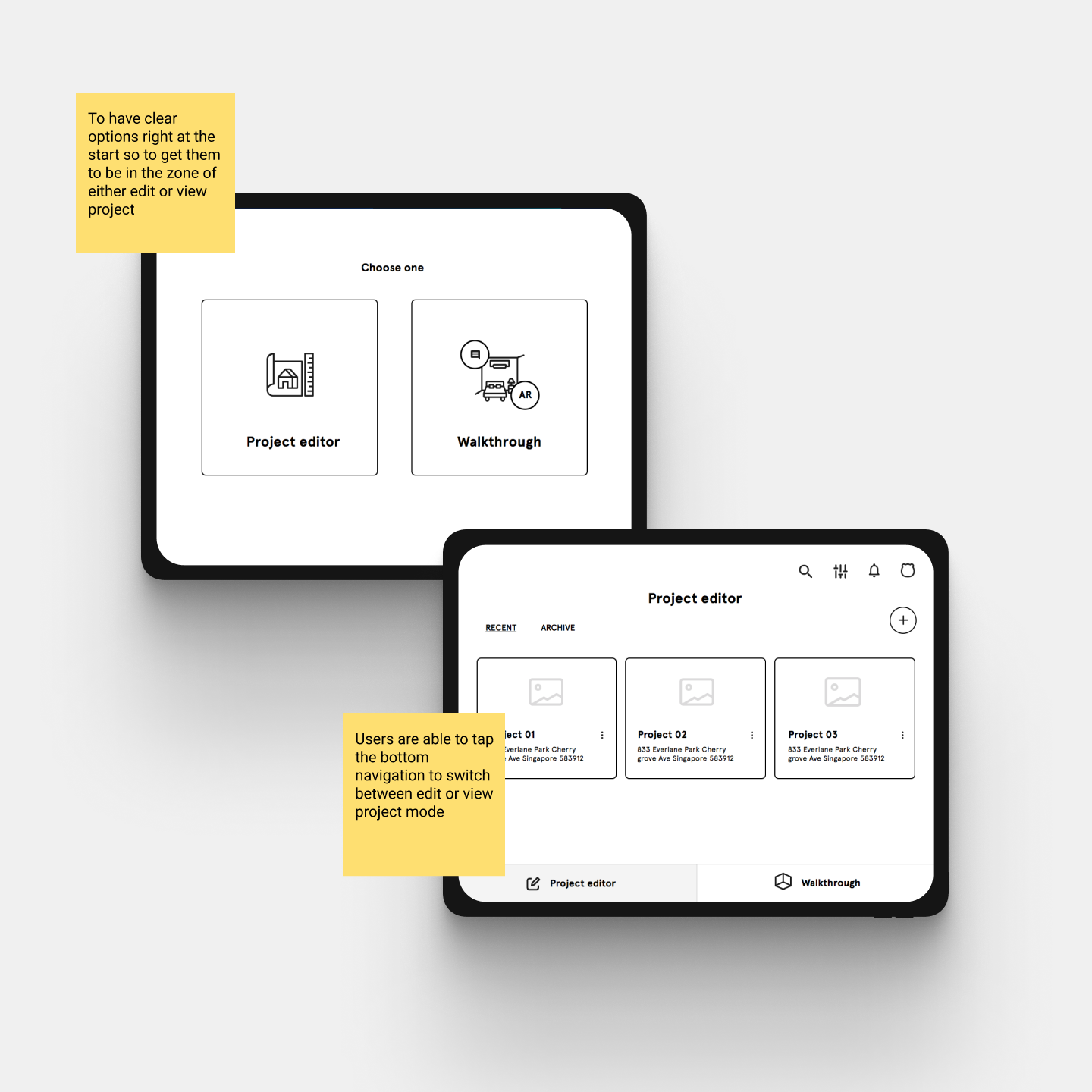 Exploration 02
To have the main action laid out for them right after users enter the project - Project editor (Edit mode) or Walkthrough (View mode). Instead of displaying all the sub-features, we decided to group them so the interface will be much more straightforward.
Users only get to see the sub-features that are relevant to the selected main action.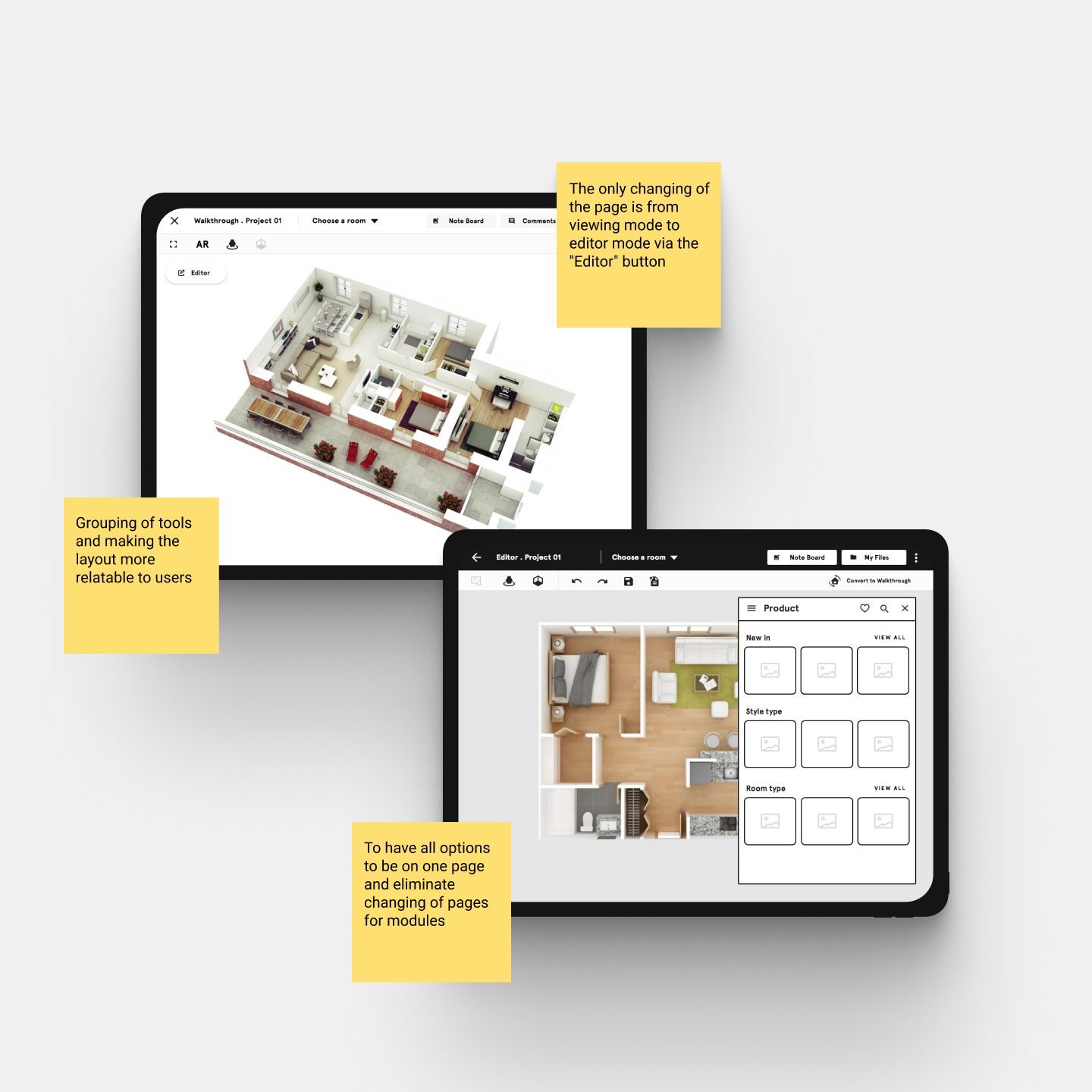 Exploration 03
Based on our interview and observation, we realized that our profile group is more familiarised with organized tools in the market such as Google drive.
So we decided to place all the tools on the top bar. While exploring the platform, users will learn that all tools are always on the top. This enables them to find the tool that they want faster and easier.
Instead of having the options right at the beginning, they will go straight into the project to edit, save or preview it.
Outcome
15 out of 15 homeowners prefer Exploration 3 user flow
Users felt that by separating the editor and walkthrough, it becomes much clearer on the different set of functions. They also gain more clarity on the overall functionality of the application.
15 out of 15 homeowners prefer Exploration 3 layout of tools
Users felt that it is the neater and less focal point for them so that they are able to find the tools that they want easier.
Enhanced wireframe based on user feedback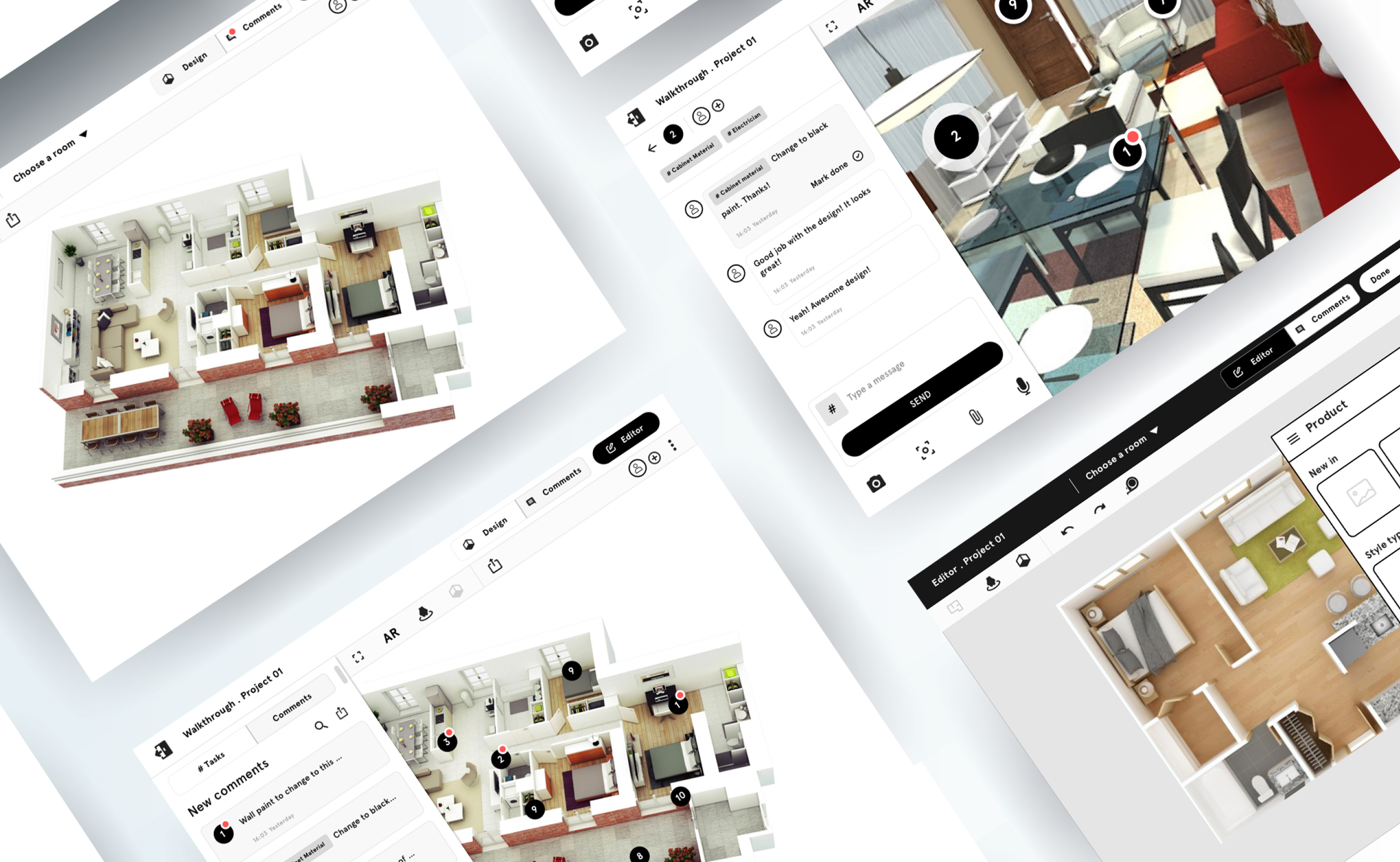 Enhanced UI based on user feedback